During this time, we are open and offering alternative ways to meet for both new and existing clients.
Michael Parlow's cell: 267-784-8383, Paul Lang's cell: 215-310-8775, Matthew Brittenburg's cell: 484-347-6758

Call 24 hours a day 215-639-4400

Call 24 hours a day 215-639-4400
Prosecutors Drop Appeal in Home Search
Federal prosecutors have dropped their appeal in the case of a Newtown Township parolee whose home was illegally searched by state parole officers acting on an annonymous tip.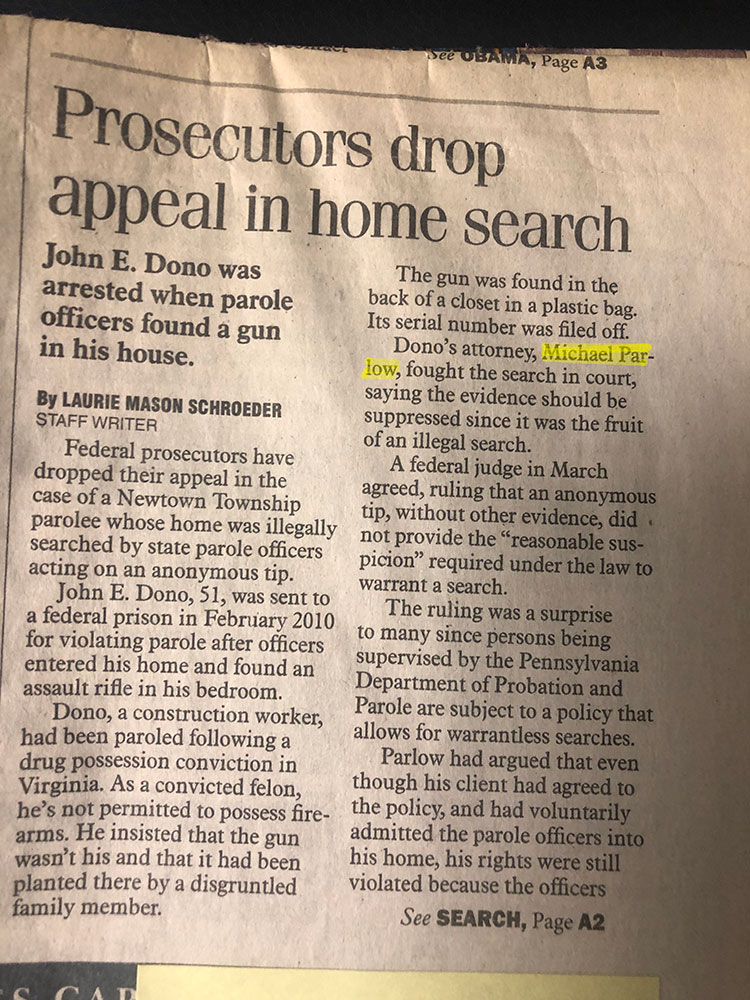 Clients say
Excellent Criminal Attorney
Mr. Parlow was aware of my legal issue before I did. He sent me a letter stating such info & I immediately called to schedule an appointment. I was impressed with his professionalism & strategy to handle my case, I hired him on the spot. He had my case dismissed with a small fine. I couldn't be happier with the outcome & I would recommend him to anyone who needs a criminal attorney.
Paul Lang was not only extremely friendly and professional, but exceptionally personable and helpful. This was my first (and hopefully last) infraction with the law and he helped guide me through all my paperwork and hearings in a clear, positive, and professional manner. He also went out of his way to make sure I was not only feeling ok mentally, but making positive decisions in my life. He is a wonderful person and I would definitely highly recommend him to anyone who needs legal assistance!
Teenage Son Got into Some Trouble
This past fall, my son got into some trouble with the police while "hanging out" with a group of his peers. I called Paul on a weekend and he replied with a phone call immediately on a Saturday morning. Paul warned me that my son could be facing a felony charge! Paul brought us in and spent a lot of time interviewing me and my son - at no cost. Paul is a serious and honest attorney who really seems to thrive in situations where he can use his expertise in Bucks county to help young people realize the best outcome possible.